BUNDLE of 6 Child + Adult Wings

Digital Pattern + Video Class
BUNDLE of 6 Child + Adult Wings

Digital Pattern + Video Class
**This bundle contains the Luna, Dragonfly, Gum Emperor, Angel, Dragon + Woodland Sprite styles.  In sizes - Small, Medium and Large (toddler, child, adult). Regularly $105  
This enchanting bundle of play wings, inspired by magical adventures and mystical fairy-tale worlds are soft, durable, and ready to keep up with anyone's imagination. 
These soft, play-friendly wings can be sewn on your regular home sewing machine with no wires or boning required.
Not just for children - all ages from toddlers to adults can enjoy some every-day magic!
Skill Level: Intermediate
Video Support: A full course of clear, concise videos accompany this pattern, alongside a comprehensive written and photographed instruction booklet.
Sizing + Supplies
This bundle listing contains: Angel, Dragon, Woodland Sprite, Luna Moth, Dragonfly, Gum Emperor Moth wings.
Sizes included:  Small (1 to 3-4 years) and Medium (5-10 years).  Size Large will fit ages 10+ to adults. 
Supplies: These patterns are designed for non-stretch woven fabrics only - we recommend using quilting cotton or fabric of a similar weight or lighter weight.
Interfacing:  Formfuse 1600f or Pellon 809 Decor Bond is recommended
Batting:  Anything from 5mm - 20mm is suitable
Needle:  A strong sewing machine needle such as a super sharp size 90 or denim (jeans) needle
Elastic:  3/4" (2cm) wide 
View size chart + materials list 
Features
The unique and versatile design allows for two types of wear; easy-on adjustable elastic straps for the dress-up basket, OR attached directly to garments such as coats, vests and the Petal dress for a bit of every-day magic. 
Soft and play-friendly - no wires or boning
Adjustable straps, or attach directly to garment
All you need is a regular sewing machine

Photo and video tutorials for every step
Bonus Resources + FAQ
A free sew-along for the Wings is available by clicking the link and signing up here
PRINTING INFO

This is a print-at-home PDF pattern and includes three printing options:
US Letter/A4 - tiled and designed to print on your home printer
Copyshop - A0 wide-format file

 

(33.1″ x 46.8″) 

Projector - specially-formatted and optimized for home projector use. 

 

Read more about using our projector files here

 
All pattern printing formats include "layers", allowing you to print only the size(s) you need, or all of the sizes. A comprehensive sewing instruction tutorial is supplied.
View pattern FAQ 
These patterns also include video tutorials for every step of construction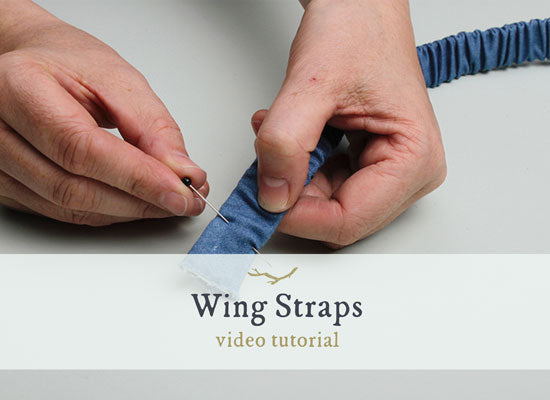 See What Our Customers Are Making
SHARE YOUR PHOTOS #TWIGANDTALE